Our paint maintenance services in Virginia will give your walls a fresh, new start and help your business outshine the competition.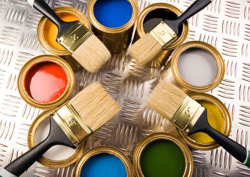 Commercial office buildings require regular maintenance services to keep them looking well-kept, up-to-date, and professional. Customers and employees appreciate when office buildings have been well taken care of. One of the most commonly neglected services that could put your business at the top of the list is paint maintenance.  Scuffs and scrapes can be gone in a single service, giving your walls a fresh, new start and making your business outshine the competition.
Our paint maintenance services can remove many signs of wear and use. From nails holes to chair scuffs, we can refresh your walls with very little relative cost to you. Our competitive, affordable rates make having a fresh start easy. Save yourself time and money in the future with preventative maintenance services like paint upkeep. Let our expert team at Empire Cleaning Services LLC design a custom plan to help ease some of the pressures of running a thriving business in Virginia.
With over 20 years of commercial cleaning experience backing our services, you can be sure you are in professional hands. We are insured and bonded, so you never have to be concerned about trusting us in your building and around your customers. We are a friendly, reliable office maintenance services provider. We can help with anything from light paint maintenance and office repairs to regular janitorial services and floor stripping, sealing, and waxing.
Trust us to keep your commercial building looking great all year round. We service Virginia Beach, Norfolk, Chesapeake, Richmond, Newport News, Alexandria, Hampton, Roanoke, Portsmouth, Suffolk, Lynchburg, Harrisonburg, Charlottesville, Danville, and surrounding areas. Contact us today to get started.
---
Paint Maintenance
Paint Maintenance in Maryland
Paint Maintenance in Hampton Roads
Paint Maintenance in Washington, D.C.