Regular window cleaning is an important part of maintaining your commercial location in VA, MD, or DC.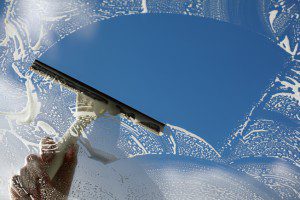 Look at your window. What do you see? Do you have a hard time seeing the landscaping outside because a layer of dirt, dust, or debris is covering your window? If so, turn to us at Empire Cleaning Services LLC. We provide professional window cleaning services to businesses in Virginia, Maryland, and Washington D.C.
If you're like the majority of business owners, you don't really pay attention to the cleanliness of your windows. However, we strongly urge you to keep in mind that regular window cleaning is an essential part of maintaining your commercial location. When we come to clean your business' windows, we will:
Remove grease, dirt, and other contaminants that might have built up on your windows
Wipe the glass clean with professional-grade equipment and remove any leftover water and dirt
Wipe your windowsills down
Make sure that there isn't anything left on your windows except sparkling clean glass
We can also come and clean your windows as often as you need us to. We're confident that you'll be happy with the quality of our work and the professionals on our team. Contact us at Empire Cleaning Services LLC today for more information about our window cleaning services.
---
Window Cleaning in Maryland
Window Cleaning in Virginia
Window Cleaning in Hampton Roads
Window Cleaning in Washington, D.C.