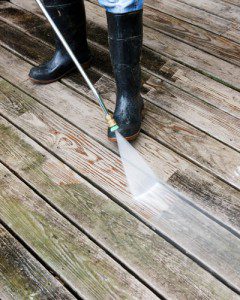 As with any other part of your building, you want to keep the outside of it clean and presentable. Curb appeal is incredibly important for garnering new business and for providing a good first impression of your company. There are many aspects of keeping up the outside of a building, but one that is often neglected is pressure washing. Pressure washing the outside walls of your building and the sidewalks can keep your property looking clean and pristine.
 Rain, snow, wind, dirt, and all the elements lend themselves to creating significant buildup in certain areas. This buildup can become grimy and sometimes even lead to the growth of mold or mildew. Not only can it become unsightly, but exposure to mold and mildew can also have a very negative impact on employees' and customers' health. Shaded areas are particularly likely to grow mold and mildew, but regular pressure washing eliminates that growth. Some additional advantages to pressure washing are that it will help reduce bugs and protect the building materials from rotting or needing replacement.
 Pressure washing also removes debris from sidewalks, which get dirty quickly. If the sidewalks are not cleaned consistently, they can lead to hazardous falls. Investing in properly maintaining any part of your building, or the area around your building, is always worth the money spent. Repairs and liability can be costly, and cleaning routinely will help you avoid more expensive issues in the future. Consider all of the services available by different cleaning companies to make sure you're hiring a team that is fully equipped and trained to focus on every detail of building maintenance.