We will help you set up an ongoing schedule for restroom sanitation in VA, MD, or DC.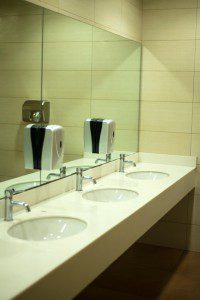 The cleanliness of your office or commercial location, especially your bathrooms, says a lot about your business. If your location's restrooms never seem to be completely clean, you may make a poor impression on clients, customers, and even your employees. Fortunately, you have us at Empire Cleaning Services LLC to help you keep your bathrooms clean and sanitized.
We provide restroom sanitation services to businesses in Virginia, Maryland, and Washington D.C. When you turn to us to clean your business' restrooms, we will help you set up an ongoing schedule for restroom sanitation. This way, you never have to worry about whether your location's bathrooms will be clean when you go into work each morning.
At Empire Cleaning Services LLC, we believe in providing excellent service in addition to treating your environment with respect. When we clean bathrooms, we use green cleaning products. Additionally, we don't stop cleaning until the restrooms we're working on sparkle and shine. When you take advantage of our restroom sanitation services, we will do everything we can to exceed your expectations.
Remember, having your company's restrooms regularly cleaned by us is an investment that will surely pay off over time. It can even help you maintain customer loyalty and improve office morale. If you want to know more about our restroom sanitation services and how we can keep your commercial location's bathrooms clean at all times, reach out to us at Empire Cleaning Services LLC today.
---
Restroom Sanitation in Maryland
Restroom Sanitation in Virginia
Restroom Sanitation in Hampton Roads
Restroom Sanitation in Washington, D.C.