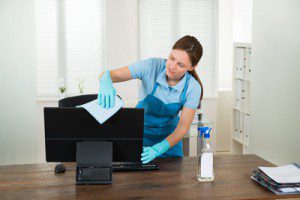 A clean office is a necessity both for your employees and your customers. It is hard to manage the maintenance of an office in addition to other responsibilities. That's why commercial cleaning services are offered. When you're hiring janitorial services for your office, the top five services that should be included are listed below:
Window Cleaning– Windows can accumulate dust and smudges quickly. Any residue on glass surfaces is highly noticeable. This is especially true for the front door to your office, which is in constant use and the first thing that customers see.
Restroom Cleaning & Sanitation– Restrooms need to always be in pristine condition. Even the slightest imperfection in a restroom seems so much worse than anywhere else in the building. It is also extremely important that the restroom not only look pristine, but also be sanitized carefully to avoid the spread of germs and bacteria.
Trash Removal– Trash needs to be emptied frequently to avoid smells and overflowing bins.
Office Vacuuming– With many people coming and going, there is a constant stream of dust and dirt being tracked throughout the office. In order to avoid allergens and dust building up, offices need to be vacuumed frequently.
Office Cleaning– Individual offices should also be vacuumed, dusted, and cleaned regularly. Upholstery cleaning should also be offered to keep the furniture in your office free of allergen and dust buildup.
Allowing someone else to maintain the cleanliness of your property will lead to more detailed cleaning. As you're making the decision on which janitorial services to hire, make sure they offer all of these services. At Empire Cleaning Services LLC, we believe a good first impression is essential in business, and we will provide you with janitorial services to help you achieve the right first impression.