Let our expert team provide you with exceptional floor stripping, sealing, & waxing services in Maryland that will preserve your floors for many years to come.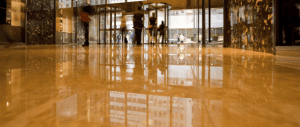 In commercial buildings, there are many types of flooring that can benefit from regularly scheduled floor stripping, sealing, & waxing services. These flooring services are considered part of a routine preventative maintenance program, meaning you are saving yourself time and money in the future by keeping up on these services now. Before damage from wear and tear can reach the lower levels of your tile or wood flooring, let our expert team at Empire Cleaning Services LLC provide you with exceptional flooring services that will preserve your floors for many years to come.
While you may believe your floor is adequately protected, it doesn't take long for damage to break through the sealing top coat and damage your vinyl, tile, or wood flooring. After damage has occurred, the only way to repair the floor is to replace the damaged pieces. By receiving a floor stripping, sealing, & waxing service from our professional group at Empire Cleaning Services LLC, you are giving your floor a fresh start every time. For very busy offices, we recommend this service as often as once per month and no less than twice a year. This will save you the hassle of replacing your floors in the near future.
We understand that your needs and demands vary. That is why we customize every commercial office maintenance service to fit your unique conditions. In addition to floor stripping, sealing, & waxing, we provide a wide array of commercial building maintenance services, including regular janitorial services, light repairs and maintenance, paint and flooring care, and much more. We have over 20 years of industry experience backing our work, and we know you will be impressed with the level of service we provide.
If you own a business in Maryland, trust us to keep your business looking sharp all year round. Our services are available in Baltimore, Columbia, Germantown, Silver Spring, Waldorf, Glen Burnie, Ellicott City, Frederick, Dundalk, Rockville, Bethesda, Gaithersburg, Towson, Bowie, Aspen Hill, Wheaton, Bel Air South, Potomac, Severn, North Bethesda, Catonsville, Hagerstown, and beyond.
---
Floor Stripping, Sealing & Waxing
Floor Stripping, Sealing, & Waxing in Virginia
Floor Stripping, Sealing, & Waxing in Hampton Roads
Floor Stripping, Sealing & Waxing in Washington, D.C