Floor stripping can help to get rid of stains, nicks, dings and dirt on the floors in your Virginia business.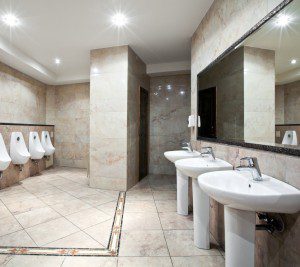 As a business owner, you know that you never get a second chance to make a first impression, which is why keeping your business looking first-rate at all times is so important.  While keeping your windows, walls and furniture clean is essential, another essential area to pay attention to is your floors.  As floors age, they tend to pick up nicks, dents, dings and dirt.  This leads to an overall feeling of grunginess in your business, which in turn leads to the possible loss of customers.  If this scenario sounds less than exciting to you, but you don't want to pursue new flooring, we can provide you with floor stripping.
Floor stripping can help to get rid of stains, nicks, dings and dirt.  Essentially, floor stripping peels off old wax and dirt and smooths the surface of your floors, providing you with a floor that is ready to be waxed and sealed, and once again protected from wear and tear.  Not only will floor stripping provide you with a surface that appears fresh and appealing, but it will also help to get rid of any areas where bacteria may have been multiplying, thereby providing you with a healthier atmosphere.
When you contact us for floor stripping for your business in Virginia, we will provide you with floors that are clean, attractive and durable, all at a cost that you can afford.  At Empire Cleaning Services LLC, we use only the most advanced technology and best methods of floor stripping in the business.  If you are interested in learning more about our floor stripping services, contact us today.  We will be glad to answer any questions you may have.
---
Floor Stripping
Floor Stripping in Maryland
Floor Stripping in Hampton Roads
Floor Stripping in Washington, D.C.